Roam SIM (aka SuperSIM)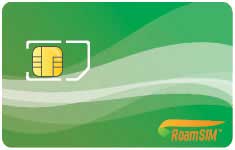 RoamSIM is a kind of MultiSuperSIM that possesses 3 separate IMSI or mobile operators' profiles: One IMSI is for global mobile roaming that carries with it a UK (+44) mobile telephone number, another IMSI is that of a local mobile operator in the USA which gives it a USA (+1) mobile telephone number and the third IMSI is for its mobile roaming data service.
It is ideally suited for use in making and receiving international calls at low costs/rates while one is mobile roaming in USA or in any of the 197 countries where Roamsim has the roaming support by some 560 mobile network operators or for access to low cost data service while one is mobile roaming in some 130 countries.
The outstanding features about Roamsim are listed as follows:
Coverage and low rates in around 200 countries.
UK and US local number on one card.
Free incoming calls on UK number in 70 countries.
Save over 85% on your roaming bills.
Special corporate call rates.
Outgoing calls as low as US$0.10/min.
Free incoming SMS.
Voicemail and call forwarding.
No Line Rentals, No Contracts.
No setup fees, hidden charges or commitments.
Online account management.
Employee card provision and management.
Call history, convenient credit top-up, charges, etc.
Reseller enquiry: roamsim@ecocarrier.com.
More info and rates are avaiable at www.roamsim.com.

PDF for Roamsim
Size:751K
News

Ecocarrier to launch
PiFiZone
Stay connected & Save Money! Create your own personal 3G WiFi Hotspot, Connect all your devices or friends and Family!. Paired with our PiFiSIM card you will save money on data roaming when travelling abroad. Also download our PiFiDialer App for the ultimate lowest-cost way of making voice calls when mobile roaming! Check out
PiFiZone
We proudly announce that
Ecocarrier has WON an award from ITEXPO 2011
in the
Best Consumer Offering category - TopUp360 & MBBoD!
Services & Friends





Ecocarrier Inc. @ Social Media