MultiSuperSIM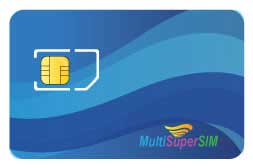 MultiSuperSIM is a multiple-personality SIM. It has multiple International Mobile Subscriber Identity (IMSI). It can be loaded/programmed with up to 256 IMSI, if necessary. Each IMSI is for a special purpose. In a basic form MultiSuperSIM has 3 IMSI.
One for it to do mobile roaming worldwide with the roaming support of some 560 Mobile Network Operators (MNO) of some 200 countries. It comes with a UK (+44) mobile telephone number and offers a host of cost-saving advantages (savings of 55% - 90%) and great convenience features.
Another is for it to assume the profile of a local MNO in the USA which allows it to make international calls at extremely low cost rates while roaming in the USA. It comes with a USA (+1) mobile telephone number.
Yet another is for it to use data service at exceptionally low cost rates while mobile roaming in some 100 countries.
Special versions of the MultiSuperSIM have additional IMSI for it to assume the profile of MNOs of various other countries thus giving the users some added advantages for achieving even greater savings in making international calls when mobile roaming in certain countries.
Ecocarrier has a strategic alliance program that offers cooperation with MNOs of various countries to incorporate their IMSI in MultiSuperSIM for use by customers of MultiSuperSIM in joint marketing program that generates a great deal of additional revenues and profits to the cooperating MNOs.
News

Ecocarrier to launch
PiFiZone
Stay connected & Save Money! Create your own personal 3G WiFi Hotspot, Connect all your devices or friends and Family!. Paired with our PiFiSIM card you will save money on data roaming when travelling abroad. Also download our PiFiDialer App for the ultimate lowest-cost way of making voice calls when mobile roaming! Check out
PiFiZone
We proudly announce that
Ecocarrier has WON an award from ITEXPO 2011
in the
Best Consumer Offering category - TopUp360 & MBBoD!
Services & Friends





Ecocarrier Inc. @ Social Media